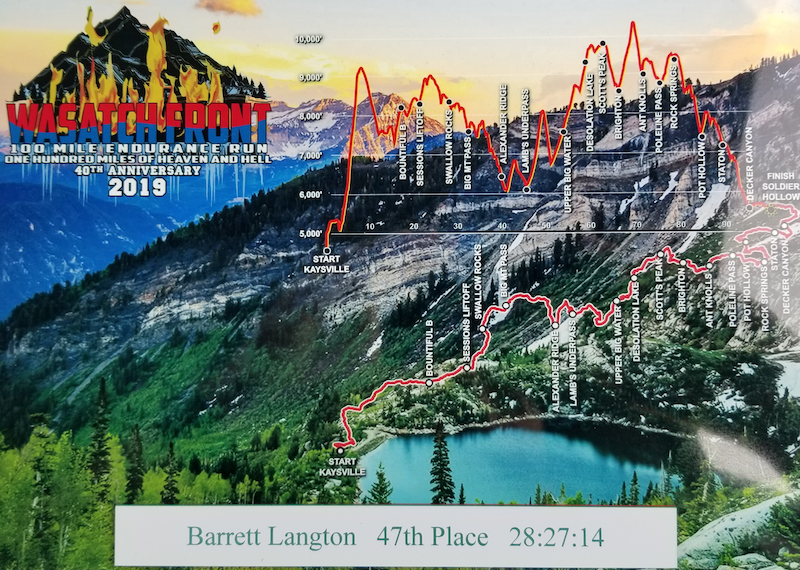 On September 6th, I took part in the Wasatch 100 as my fourth 100 mile attempt. It would become my third finish and best finishing time of 28:27:14. It was the hardest course that I've done, but things came together so well that I was able to get my best time and feel good doing it. That's why I want to document the race and point out what went well and what didn't.
Training
As I sit here in October, I've already surpassed my biggest running year ever. This partially has to do with having signed up for the Zion 50k and Miwok 100k, both early spring races. They had me running more than usual through the winter. Christopher Harrington from Resilient Running Project coached me during training for those races. He introduced some methods that were a little different than my usual training, including some speed work and short hill intervals. I was able to PR my 50k and 100k times, both by well over an hour. I decided to do my own plan through the summer while training for Wasatch, but I took a lot of what I learned from Chris and incorporated it into my training.
My training went well, and I rarely deviated from my overall plan. Those that know me, know that I like to incorporate cross training (road bike, mountain bike, strength and core workouts, etc) and this training cycle was no different. I typically would do 1-2 days of cardio in another sport (biking) and then 4-5 days of running per week. Strength and core workouts would be done in addition to the cardio, but I'd always have at least one day per week that is a complete rest day.
Lindsay and I spent a full week in the San Juans leading up to Chris and Allison's wedding, so I took advantage of that to get some big training miles in. It was somewhat unusual, in that I didn't run any really long runs, but just a bunch of mid distance runs with a lot of elevation gain. I bought poles leading up to this week so I could practice with them. After this week, I was planning on a down week followed by three weeks of increasing distance before tapering two weeks out of Wasatch. However, I got invited to do a huge 41 mile loop called SnowCap in the Elk mountain range near Aspen. I couldn't resist something that looked so cool, so instead of doing a down, up, up, up method, I did down, up (SnowCap), down, up. I had to make the third week a slightly down week to recover from SnowCap, then one final big week (focusing on a lot of elevation gain). It worked out well. Here is a chart to give an idea of my final weeks of training starting with the San Juan weekend:
| | | |
| --- | --- | --- |
| Week | Mileage | Elevation Gain |
| July 20-26 (San Juan) | 63 | 16k |
| July 29-Aug 4 | 51 | 9k |
| Aug 5-Aug 11 (SnowCap) | 63 | 13k |
| Aug 12-Aug 18 | 55 | 9k |
| Aug 19-Aug 25 | 65 | 15k |
| Aug 26-Sep 1 (Taper) | 38 | 5k |
I've never gone over about 70 miles in a week, so those are pretty big weeks by my standards.
Nutrition
I have a variety of foods that I like to make and eat on runs, so I carried some of those with me and had some with Lindsay to restock me at crewed aid stations. I do Pro Bar chews, No Cow energy bars, homemade energy balls (peanut butter, dates, oats, chocolate, chia seeds), and hummus (or peanut butter) tortilla wraps. I also typically eat bananas and potatoes at aid stations, and vegetable broth at night. I'd also drink ginger ale for my stomach and Coke if I needed caffeine later in the race. I read how Scott Jurek stays away from melons because of their acidity, so I started doing that this year, and I think it's been a good choice. I tried to stay away from most junk foods and all animal products.
Taper and Race Week
One thing that I always focus on leading up to a 100 mile race is reducing dependency on caffeine and getting a lot of sleep. Getting sufficient sleep is one of the most important things that an athlete can do at any time, so I try to always get good sleep, but I especially focus on it in the final couple of weeks. Plus, when I'm sleeping more, I naturally won't depend on coffee as much. This plan went well. I got about an hour more sleep per night than my usual and pretty much stopped drinking coffee for a couple of weeks, just occasionally having a tea if needed. I think this plan is great because 1) sleep is important 2) during the race I will be up for 30-ish hours w/no sleep 3) not depending on caffeine as much I'll be more awake early in the race and not need to start relying on caffeine until very late in the race.
We made the eight hour drive to Salt Lake City the day before the race, went to the pre-race meeting, then headed to our hotel in Kaysville near the start. I focused on eating foods that I'm used to eating leading up to the race, and especially on the road trip to the race. Sometimes I've gotten random food at this time, but I realized that's probably not a good idea and not worth the risk. We did eat out for lunch, but it was just a veggie sandwich which seemed harmless. That night I had a little stomach pain that made me a little worried, but I just took some tums, went to bed, and hoped for the best.
It was probably my best night of sleep before a race ever. I got about 7.5 hours of sleep without waking up at any time through the night, and woke up about 15 minutes before my 3am alarm was set. At that point, I was awake, so I just got up. This was a good sign.
The Race
The race started at 5am. I woke up at 3am because I like to be up at least a couple hours before the race to eat, digest, and get some bowel movements going. It was easily the warmest start to a race I've ever experienced. The temps were about 70 at 5am. It seemed like a sign of a hot day upcoming.
I made a chart, like I always do, of expected split times based on different paces. For this race I made estimates for 28 hour, 30 hour, and 32 hour splits. I really wanted to get under 30 hours this race even though 31:04 was my fastest 100 so far and this was a tougher course.
The First 50k
The race started with a relatively easy three miles where people could get spread out a little bit. After that, there was about a 4 mile, 4500' climb to do. While people got somewhat spread out, it still wasn't enough. The climb basically forced everyone into a conga line and you just kind of had to go the pace that the group was going. It was a steep and narrow trail, making passing not worth the effort. I knew this section would be slow and just settled in for it.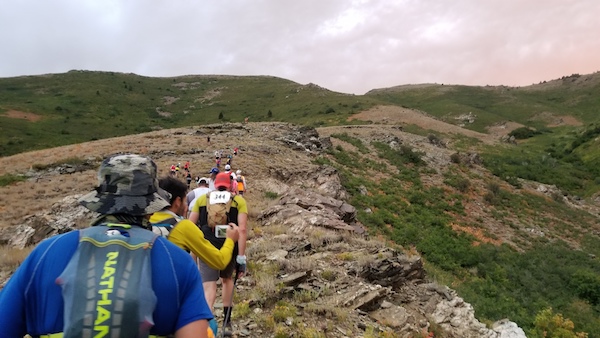 After the climb, you come out on a fire road that is a gradual downhill for a few miles and I was able to clock out some quick miles without pushing too much.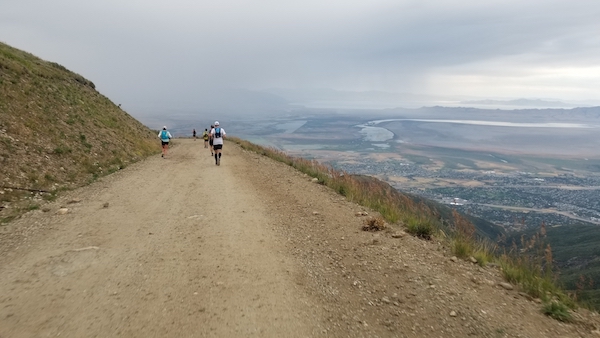 Around miles 12-15 it started raining. This was nice because it kept the temperature down. I never got to the point of feeling that I needed to put on extra layers. But eventually, the rain made some of the gravel road sections a nightmare because they were steep and turned into slippery mud pits not very dissimilar to Bighorn. I was not a fan of this experience, but luckily it didn't last long. I soon got back on single track which wasn't as affected by the rain. I texted Lindsay that I wanted to change shoes and socks at Big Mountain (mile 32) and continued on.
Big Mountain (32) to Lamb's Canyon (45)
Big Mountain was the first crew accessible aid station, and it was nice to see Lindsay. The whole aid station was cheering for runners coming in. They were so excited, it made it feel like it was the finish line. Lindsay was great as usual, getting me into dry shoes and restocking my pack with food. I headed out feeling good. I was right about the split that I needed to be for a 30 hour finish.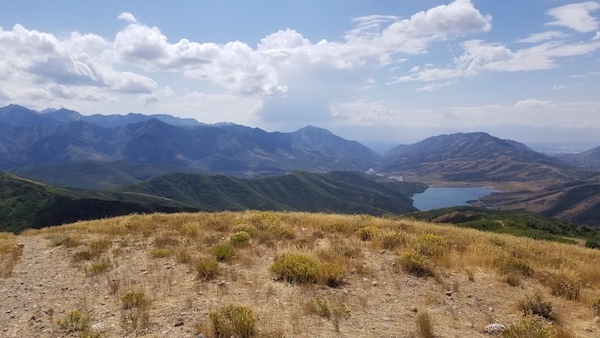 It started to warm up in this section. Thankfully, most of the morning was cool and overcast, but we weren't going to escape the heat all day. After Alexander Ridge (mile 40) was the worst part. There is about a 3 mile section following a power line and the sun is up high pounding down on your back. I realized the heat was starting to get to me at this point, so I consciously focused on slowing down a bit and not pushing it. The section from Alexander Ridge to Lamb's Canyon was the only section that I lost a few places in the standings, but that was totally okay with me.
Again, I got to meet up with my rock-star crew and got everything needed for the upcoming section. I switched to my larger Salomon pack and picked up my poles here. My energy was drained by the heat a bit, but going up Lamb's Canyon would get me out of the sun and it wouldn't be long until night was upon us. Again, I was still maintaining the pace that I needed for a 30 hour finish but just barely. It was feeling as if it was a little too hard to stay with 30 hour splits, so I was thinking that my best case scenario would be just under 30.
Lamb's Canyon (45) to Brighton (67)
There were a couple of miles of road leading out of the aid station, then it diverted to single track over a ridge, and shot you back onto a road for about 3 miles up to Big Water (mile 54). Both of these road sections were uphill, but not very steep. I walked them both. In hindsight, those are areas that I maybe could've made up time by jogging. I was immediately grateful for having poles now, as it helped me move more efficiently on the uphills.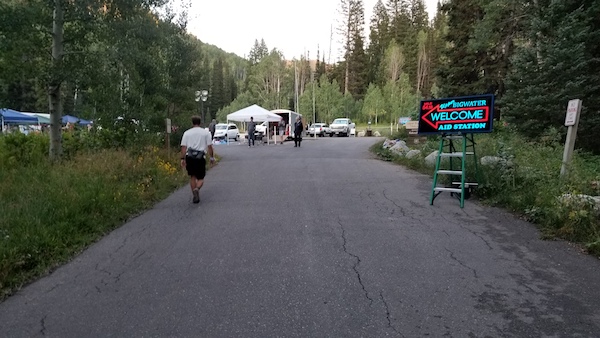 At Big Water, I could tell the sun was setting and it was getting really chilly. I had some veggie broth to warm up, put on a long sleeve and headed out. I felt like I needed the long sleeve at first, but at times I felt like it was too much and was getting warm. I didn't want to deal with removing it, so I just stuck with it and it worked out fine. I would never feel very cold for the rest of the night, except at times when I'd stop at aid stations.
Around here I was starting to not eat as much solid food. I wasn't nauseous, but nothing sounded good. As I was getting close to Scott's Peak (mile 63) I could tell that my stomach was feeling empty and I really needed to start eating more. I was a little concerned and notified Lindsay since she'd see me at mile 67. At Scott's Peak, I opted for some veggie broth with noodles and also had a banana. That was all that sounded good. Scott's Peak down to Brighton is basically all downhill and so I ran some decent splits down to it. I immediately started feeling better on the way down, so things were looking good. Turns out, I would continue with the veggie broth and noodles, and occasional banana throughout the rest of the race.
Brighton aid station is indoors so you can warm up a little. There also is a lot of carnage as some people are just trying to recover from major low points and save their race. I got to the aid and was surprised to see Jeff there with Lindsay! This was my longest aid station stop, but it was just to make sure I'm ready to get through the rest of the race as crew can't see you again until the finish. I brushed my teeth, had a coffee & (veggie) protein drink, restocked with food (most of which I wouldn't eat), and headed up the ski resort. I was still right at 30 hour pace according to my chart.
The Last 50k
Out of Brighton, you go up a steep hill to the highest point of the course (over 10k). Then the descent from there to Ant Knolls is even worse. It's really steep and loose. I was basically just walking down it and still passing others. Poles were very helpful on this section and other gnarly downhills yet to come.
Somewhere in the mile 70 range, I had the strangest experience ever: my legs felt fresh. I don't mean like relative to how far I've been running. It felt like I had just started running and there was no soreness or fatigue in my legs. This is not to say I was suddenly running 8 minute miles. My pace was still slow, but I could run and I was enjoying myself moving along the trail. I was having a great time and really enjoyed the nighttime.
This is the point where I feel like things really started clicking and I got into a rhythm. My race splits below back this up, as miles 75-100 was as fast as miles 25-50. The veggie broth was keeping my stomach happy and keeping me energized. The poles were helping me in big climbs and descents, as well as just guiding me on the flatter stuff. I had a routine at every aid station to get veggie broth, sit down, eat it, then head out. I'd also grab a banana, coke, or ginger ale when I felt that I needed it. There were definitely others struggling at aid stations along this point as you'd expect, but I just kept my rhythm going and feeling good. I think some of the aid station volunteers were surprised at how alert and focused I was.
The descent from Rock Springs (mile 79) to Pot Hollow (mile 85) was another crazily steep descent. I am really glad I had my poles for these descents. The night time made it hard to tell the contour of the trail, as the trails were rutted out and would cause awkward steps now and then. The poles helped me to maintain my balance many times.
At Pot Hollow, it was starting to get light, and as I made it up the hill to the road along the ridge, I could now see into the valley of where the finish is. I just kept chugging along, trying to get finished before it started heating up. At this point, sub 29 was seeming likely, but sub 28 seemed out of reach. The final 10 miles weaves around in some weird ways, and I could see how it could be frustrating if you aren't feeling well. The final 6 miles is very runnable if you're feeling good, and the final 3-4 miles is mostly along a trail that goes around a big lake. I did walk bits of it, but ran a good amount and finished in 28:27:14.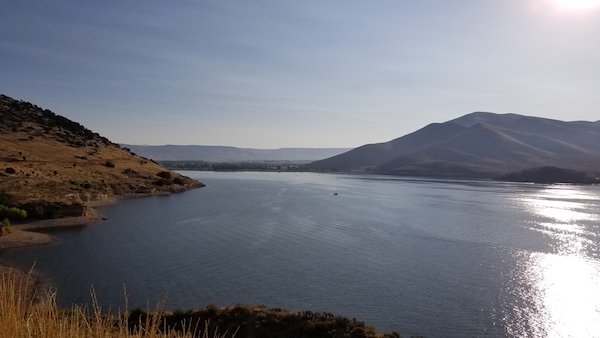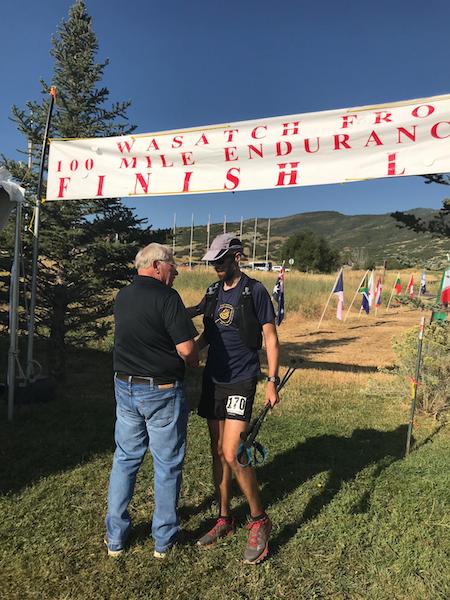 Takeaways
Here are the key points that I think led to having a great race:
Get a lot of sleep leading up to the race and cut back on caffeine intake.
Poles are helpful for steep and technical races. I could've used them before mile 45, but at the same time it was nice not to have to carry them the entire race.
Have a plan on food to eat throughout the race, but be flexible.
Eating well (vegetables, fruits, whole grains, nuts, beans) during training and cutting back on alcohol helps improve performance and recovery during intense training periods.
My aid station stops were not super short, especially the crewed aid stations. I could probably cut time out from there, but at the same time, ensuring that I got the nutrition that I needed at each aid station was critical to continuing to have a good race. Also, from my aid station in/out places (below), I rarely lost places while in an aid station.
I went without a pacer and I'm glad that I did. Sure, I had Lindsay to help at crewed aid stations, but when out on the course it was totally up to me to problem solve and keep going. I've also enjoyed my races with pacers, but I'd recommend others to consider going without a pacer every now and then.
Race Splits
These are estimated splits of the race split into four quadrants of 25 miles.
| | |
| --- | --- |
| Miles 1-25 | 6:31 |
| Miles 25-50 | 6:58 |
| Miles 50-75 | 8:03 |
| Miles 75-100 | 6:55 |
Aid Station Places